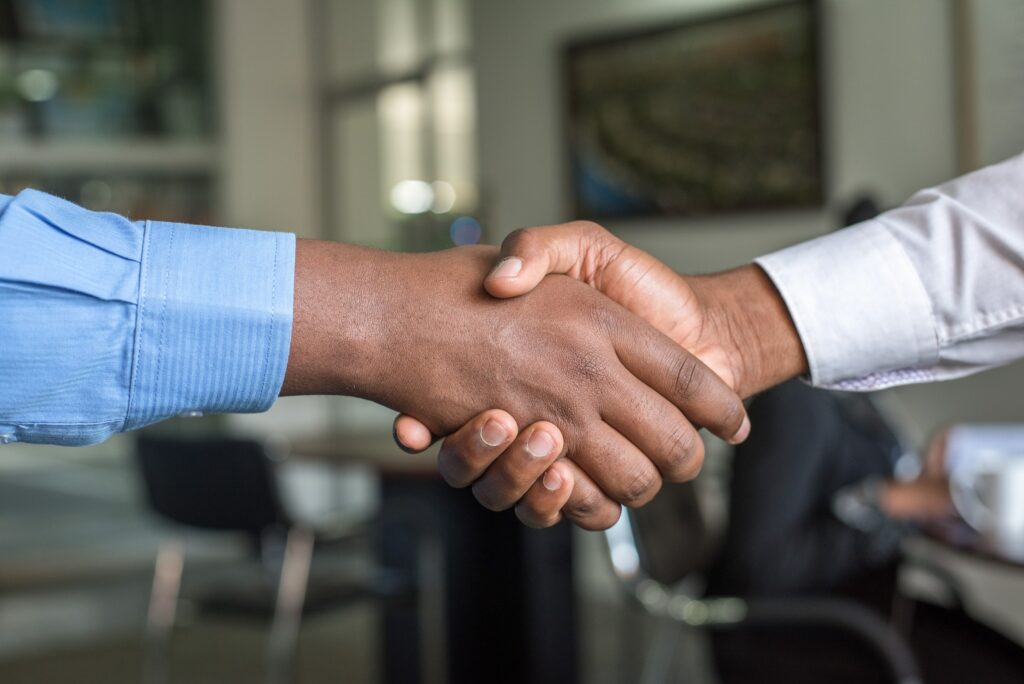 If you've been in the business of sourcing long enough, and if you have been in the business of supplying long enough, chances are that you hear this phrase from some new potential buyer / supplier, every few weeks, if not more.
Personally, as the managing partner at Bag Studio, I get weekly emails from buyers in India and from China, requesting us to give them a "chance" to build a strategic partnership.
The term "strategic partnership" is expected to induce some sense of awe or worthiness or something else. I am not quite sure.
But from my experience in working with suppliers and buyers alike, one thing I do know for sure:
It's more like dating – you've got to crawl, then walk, then run. It takes time – lots of it sometimes, to build it up to a level where you can have lifelong (hopefully), mutually beneficial partnership.
But before you start daydreaming about what this Walt Disneyesque "Happily Ever After" story, might feel like, let's take a close look at supplier / buyer partnerships in general.
---
Types of Buyer / Supplier Relationships
So, like many things in life, not all relationships are equal. In fact, building up a relationship starts with the ubiquitous transaction.
The relationship reflects kind of like a pyramid with clearly defined stages, which will help you get to the exalted status of "strategic partner" to your counterpart.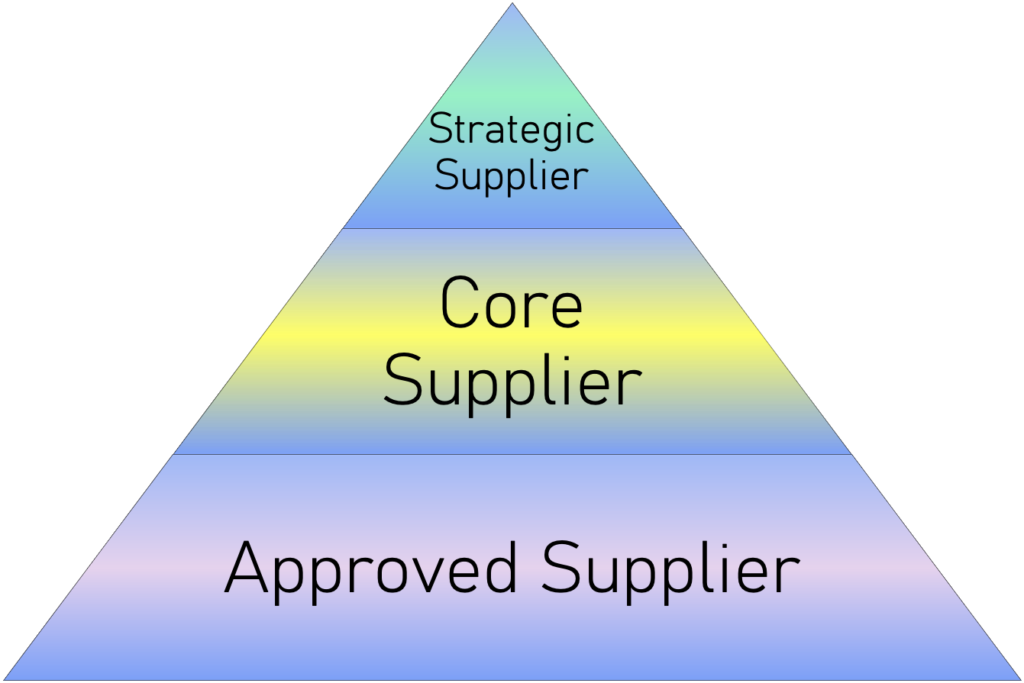 Let's take a closer look at these relationships and their evolution, from a supplier viewpoint.
Approved Supplier
Most relationships start and end right here. This could be for a few different reasons. A couple are list below:
One-time requirement
Bad experience
The way you get to this level is pretty standard:
Buyer approaches supplier; They discuss the requirements over a period of time; pricing followed by sampling, terms of payment, delivery times – all checked off.
Now the production and shipment. Buyer receives the products and is thrilled.
Great.
Buyer's reaction: somewhat relieved that the whole process was executed with minimum hiccups, and that the products are in hand.
Now, if the buyer has more than a one-time requirement, then you are in their radar as an approved supplier.
My Experience
In my experience, I come across several such relationships. Sometimes, even after great feedback from the buyer, we find ourselves left out in the cold. I once had a buyer from Switzerland, approach us through Alibaba, for manufacturing some organic cotton pouches as a primary packaging option for his products. With 15 different colour combinations and different prints, spread across a modest order quantity, the order was challenging. We took it up as we felt we could do it and saw this as a chance to develop a long-term relationship with the buyer.
The buyer received the products and was very thankful for it. Five months later, he approached us again – but this time it was part of a general Bcc email – asking us if we could help him develop organic cotton pouches. As reference images, he showed the pics of the bags we had made for him. He had completely forgotten that we had made these bags for him the first place. He must have been purely price-driven, which is not unusual at all.
So you know, shit happens. You can do all the right things, and your counterpart may not be looking for that long-term partnership like you are. It's just how it is sometimes.
Getting to CORE SUPPLIER status
If you are working with a promotional / marketing company, the stage you want to be at with them is to be in their radar where you get considered for relevant enquiries. At this stage, if you have a couple of shipments under your belt, and they are still talking to you, then chances are that you are in a good place.
As a supplier you are hoping to convert more orders and to be their first call when they need products like the ones you are making.
But this is easier said than done. At this stage, you can say that the supplier is competing with a smaller pack of suppliers, compared to when he was trying to get to the approved supplier stage.
To answer this, let's think of it from a buyer's point of view.
When they need a product, the first thing they will do is to see if they have an existing set of suppliers for the product. If it's a large marketing company with offices in multiple countries, then they will most likely have a database of approved suppliers.
In addition to the approved suppliers list, they will also try and identify a couple of suppliers from the general marketplace, just to see what else they can find. This is not always the case, depending on the kind of time pressure they are under.
As an approved supplier, you now need to stand out from the rest. The way you do this, is by responding to all quotes which come your way, within 24 – 48 hours. You will be shocked by how many suppliers do not follow this idea. Responding means providing all relevant details. The buyer is dealing with a deadline, and they need to know that they can count on you, to help them get the details they need, so they can either forward all relevant details to their buyer, or if they are the end-buyer, they can make an informed decision.
There is no short-cut here. You need to do this hard work consistently, and repeatedly.
Over a period of time, with some luck, you will become the first (or second) company they approach when they need your kind of products.
My Experience
This is a fun stage to be in at. It's like gaining the benefit of inbound marketing, without having to continuously rev up the marketing engine. More recently, in December '20 we executed an order for the Spanish office of a large multinational promotional marketing company, based in Europe.
The order was a culmination of 5 years of responding to the occasional enquiries as well as visits to our trade show booth, from their representatives. During the 5 years, we used to receive maybe 1 or 2 enquiries a year from random offices in their network. Nothing really happened – we used to reply to their quotes, and then they would go silent (isn't that just super annoying).
All this changed right after we executed the December order. The two buyers who were communicating with us, were very keen on taking on the project, as it was a high profile one for their company. However, the timing was tight, and the client had still not zeroed in on the specs of their exact requirements.
During the production-run, the buyer's client also made some key changes to the overall specs of the product. Our buyer felt compelled to acquiesce to their request. We made our adjustments, and the order was executed within the contracted time frame. When their client received the products, they were very happy with the quality, and it was time to uncork the bubblies.
Since then, what has happened is that my company, while being part of their approved supplier database, has also started receiving several enquiries from multiple offices in their network. The standard email we receive along with the enquiry, is that Carla (name changed), in the Madrid office, said that for any cotton / jute related bag enquiries, Patodia Organics is the go-to company.
Wow! Music to my ears. With this company, I can conclude that we have been elevated to Core Supplier status. Of course, it only took 5 years of sporadic enquiries, trade show visits, and then an almost impossible order to execute, to achieve this level of confidence with the buyer.
But then, it's so worth it!
Which brings us to the summit – Strategic Partnerships. Let's take a closer look.
Strategic Partnerships
What are strategic partnerships? How do you build up such a partnership?
First of all, strategic partnerships take a shit load of time to develop and maintain.
And then, these are rare – for example, in the over 250 customers we have had during the lifetime of our company, we can count 4 relationships which are active and we consider strategic.
What makes them strategic?
In addition to the core function of servicing the functional need of the buyer, the main element of a strategic partnership can be outlined as under:
This is the spirit of the relationship, at this stage.
A Case Study
One of our earliest buyers turned out to be the first customer we established a strategic partnership with.
The family-run company had just about started off as an Amazon seller in the US, about the time we connected via Alibaba.
The conversations started off as they normally do. The buyer, let's call him Joe, had a specific requirement in organic cotton bags, and was actively scouting around for supply sources.
While we did not have the required material to make the fabric, we assured him that we would work on it to identify the right fabric supplier, and then make the bags for him.
This process of identifying this fabric, took 5 years. But what happened during those 5 years, is that Joe felt comfortable talking about the challenges he faced in his business. What started off with infrequent phone calls and emails, to discuss specific sourcing requirements, gradually transformed into weekly phone calls and a dedicated Slack channel, to discuss all issues pertaining to his company.
The strength of the partnership came to the fore over the last year which has been so difficult for a lot of companies. His main product-line was shopping bags. With stores shut or not allowing bags from outside, he suddenly found his revenues dip by over 50%.
With this crisis kind of situation, we started dusting off product ideas we had discussed over the years, but not had the time to really think through. Over the course of the last year, through frequent calls and several rounds of sampling, we came up with 30 new products, all targeting a different market segment. This is basically a 100% addition to his existing product-lines.
This is what's so amazing about a strategic partnership relationship. You hitch your bandwagon to each other, to whatever degree, and then you join hands and get into it.
Perhaps the biggest compliment I received from Joe, when we acknowledged 10-years of our partnership, was when he said:
"Deven, you have spoilt us. We never felt that we had an overseas partner. It' felt like we have been working with a trusted partner right here in the US, all along."
The core message
Strategic relationships take time and the right frame of mind to develop. It is not just a pivot you make to diversify your supplier / buyer base. You have to be willing to give freely without every transaction needing to hit the minimum internal financial numbers you might have set for yourself.
Our strategic partners are the pillars of our business, and the last year has made this all the more evident to us.
---
Other Blog Posts:
Understanding Cost Factors When Sourcing From Overseas
Things to Know about Recycled Cotton Bags