You see a great opportunity in your market to fulfill a need. Let's say bags (because that's what we know best at Bag Studio)
You go online and search for products and suppliers through B2B portals such as Alibaba.
You negotiate a price with a factory you have zeroed in on. When the products finally arrive at your doorstep, you realize that you have paid way more for the product than you had originally planned for.
Sound familiar?
Understanding Incoterms
International trade is run on Incoterms – a fancy way of saying that there are commonly acknowledged rules of international trade.
If you are looking to source products from overseas, it is imperative, that you have a strong understanding of this. Having this understanding, will make your life a whole lot easier, trust me.
The table below nicely explains the role of the buyer and seller.
The chart is based on 2010 terminology, but not much has changed since then.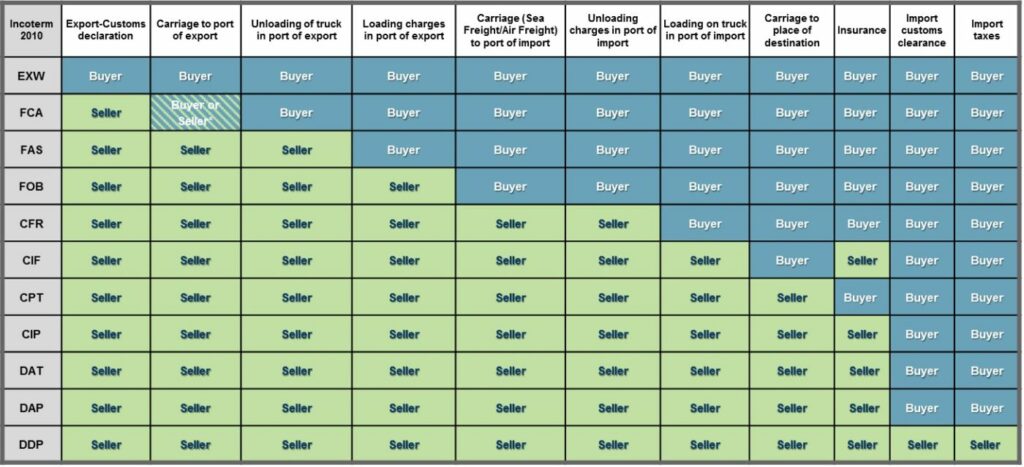 The Most Popular Terms of Trade
EXW: Ex-Works — This basically means Ex-factory. What that means is that the seller / factory, will prepare the goods and get them ready for shipment. The buyer, has to handle everything else:
FOB: Free on Board OR Freight on Board — The factory is responsible for arranging transportation of the goods from the factory to the origin sea port (if sending by sea). They are also responsible for paying all original customs clearance charges and transportation charges.
CIF: Cost, Insurance, and Freight — The factory will pay for all charges originating from location and will be responsible for paying ocean / air freight to your destination airport / seaport.
The above definitions are consistent with goods going to a destination airport or seaport.
However, if you are getting the goods by courier (FedEx, UPS etc), then the charges you pay are covered in the courier charges. You are paying for door-delivery.
---
Other Costs to Factor In
Customs duty charges and VAT (where applicable) — Make sure you know what this number is, before placing your initial order for new products. If you do not know what this is, the you can use online free resources like https://www.simplyduty.com/import-calculator
Destination customs clearance — If you are getting goods by air or sea, to destination airport or seaport, then you will want to appoint a customs clearing agent at your end to clear the goods through customs for you. They will charge you for it, in addition to you having to pay customs duty (if applicable)
Local transportation to warehouse — The final piece is taking the goods from airport or seaport, to your destination.
---

If you are a small business or if you have not worked with too many factories in a specific country, always ask your factory for guidance about the mechanics of the logistics.
Happy hunting folks! 😉
---