Shipping has become expensive, and unpredictable. 2021 has been a nightmare for everyone alike, given how something as boring as shipping, has taken center stage. In such an environment, how do you manage your cost and delivery timelines?
Through this write-up, we will share outcomes of the several conversations we have been having with our clients, over the last few months. Read on, if this is relevant to you.
A quick recap of the Issue
Shipping rates, both air and sea, have hit 5-year highs. Best-case scenario is these rates continuing till the end of 2021. Some commentators are talking about it not easing up before 2023.
Added to this, shipping timeline reliability is at a historic low.
The reasons for this are various — but that's not important to elaborate here — if you want a quick summary of some of the main issues, you can find plenty of articles online, or you can click here, for one such resource.
There are a couple of indices one can follow, to get an overall idea of what's happening with sea and air freight rates. You will find two charts below.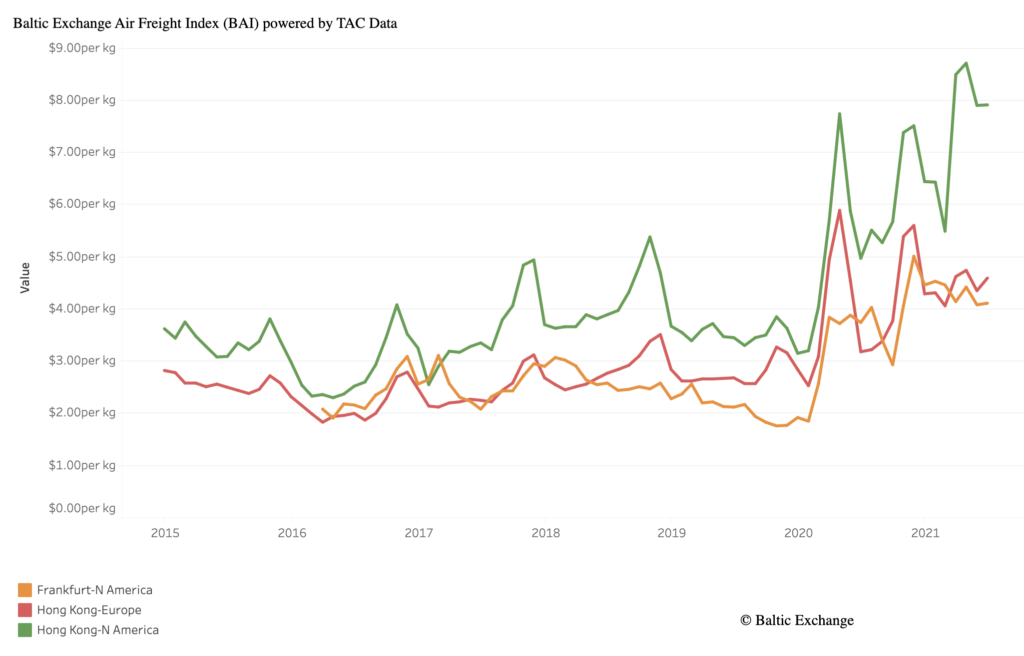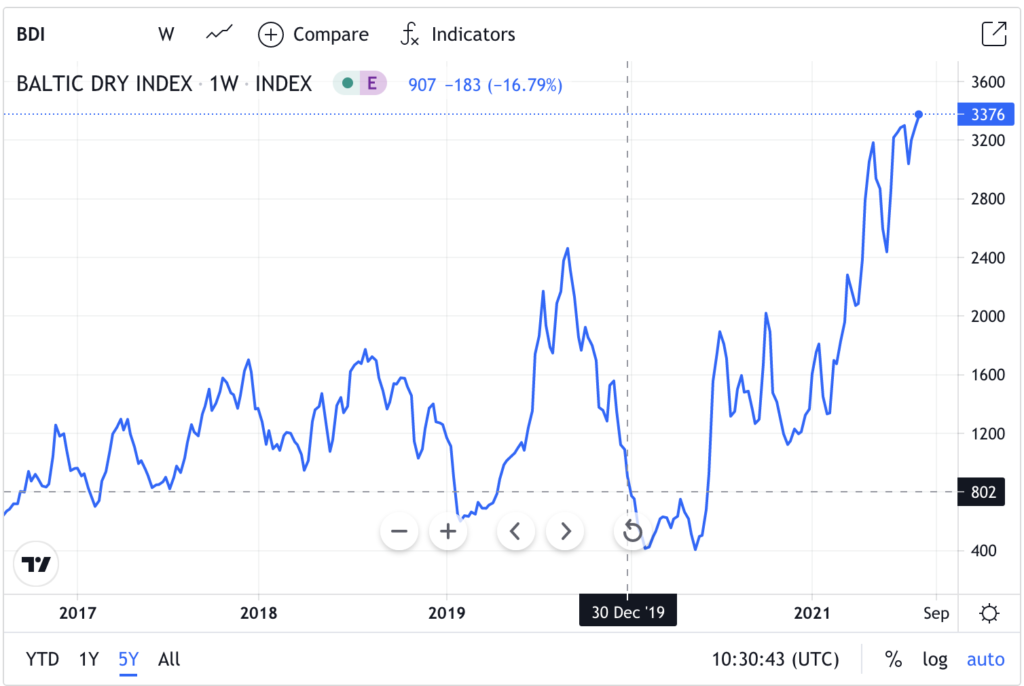 You think I'm joking…I wish!
Okay, so let's move on to what might we be able to do about this.
Snakes & Ladders
In discussions with one of our oldest clients, the gentleman said, "You know Deven, this feels a lot like playing Snakes & Ladders in the good old days — except, there are no ladders in sight – only snakes!"
That's not very different from reality unfortunately. Seriously, what CAN you do in a situation where you are clearly a price-taker? Sure, there are a few stories emerging of some businesses suing the shipping lines for unfair trade practice, like this story. But that's not really a strategy for the short-term.
We have put together a list of some of the possible strategies you can adopt, to try and lessen the pain of the current situation. Read on….
Some Ideas to Chew On
Instead of going Full-Container Load (FCL), consider going LCL — why? We have seen that FCL rates have gone up astronomically. However, LCL rates have not kept up with the same pace of rate growth. Yes, there are certain advantages which FCL offers over LCL. However, in the current scenario, pricing is probably right up there on your list of priorities.
We are currently implementing this plan with one client in the US. He normally buys 4 containers a year, evenly spread out over each quarter. However, with the rates going up the way they have, there is no way he can absorb the shipping charges, unless he raises his prices significantly (we'll get to this point in a little bit).
So what we are doing is spreading out his orders through 8 LCL shipments, over the course of the year. It requires a rework of the entire planning schedule, which has been in place for the last several years. However, in doing the math, we find a tremendous cost saving in terms of additional shipping charges. Yes, doing so will add one-time clearance charges at both ends, as well as some other fixed costs per shipment. However, the savings, despite all this, is still tremendous
Consider a hybrid model of shipping, to manage delays.
Both air and sea freights are very high, as we have seen with the earlier charts. To keep costs down, sea shipment is always preferred over air. We all know this. But as we have seen with multiple clients, there are products which they need immediately, or soon, so they can stock-up on inventory in the near-term. However, they do not need all of it in one-shot generally. So, we have been advising clients, to plan their sourcing in a way where they can combine short-term and long-term inventory levels.
If you are a marketing / promotional company, it is really important to convey the situation to your clients, in writing, at the very least.
Just yesterday, I was having a chat with one of our clients, who was tearing her hair out, trying to figure out how to manage her clients who were expecting their goods in a week's time, but the goods were still stuck in port in India. I asked her if she had communicated the situation to her clients. She said "no, but isn't it obvious." It might be obvious, but you still need to convey the situation to your clients, so they can work with you in coming up with some strategy to cope through this quagmire.
This is not something businesses generally want to consider doing, easily. Markets are competitive and there is always someone who appears to be able to offer cheaper prices. But in this scenario, there is really no place to hide. None of your competitors have a magic potion which will make shipping any less expensive for them.
Invest your efforts in finding production-centers, closer to your required geography
This may not always be possible, and is by no means easy. I am not saying you abandon your core factories at all. However, if you spread yourself geographically, then you might be able to blunt the blow of the shipping charges and uncertain timelines somewhat. China has been riding the manufacturing boom for decades now. Low-cost, regular, predictable shipping, has been a pillar of this boom. However, in such an environment, there is enough reason to atleast delve into the idea of diversing your geographical production capability.
And this does appear to be happening. Over the last 2 months, we have received multiple enquiries from customers who are looking to source their products, in places other than China. One customer, sought our help in identifying a factory in Turkey, for a large-volume project for that country itself. Normally, it would have been sourced through China.
Misery loves company
…and there is plenty of company. You're not alone in trying to figure this out, and even then you will have to tackle the twin-claws of higher price and unpredictable lead-times.
Good luck and breathe…..! 🙂